IMD World Competitiveness Rankings 2019: India Ranked 43rd, Singapore Tops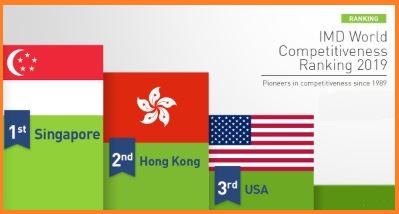 IMD World Competitiveness Rankings 2019: India Ranked 43rd, Singapore Tops: Details, Rankings, Categories, Findings
India has moved up one place to rank 43rd most competitive economy in the world in annual competitiveness rankings compiled by International Institute for Management Development (IMD).
India was at 44th position in 2018, 45th in 2017 and 41st in 2016.) in terms of competitiveness worldwide. This improved rank is a result of India's robust economic growth, a large labor force, and its huge market size.
Top 3 Rankings
1. Singapore: The competitiveness chart was topped by Singapore. It has grabbed the top position for the first time in nine years. In 2018 it stood at third rank.
2. United States of America: The USA slipped to third place in 2019 edition of the IMD World Competitiveness Rankings.
3. Hong Kong: Hong Kong Special Administrative Region (SAR) has held onto its second position the same as last year. This rank was due to countries benign tax and business policy environment and access to business finance.
About IMD World Competitiveness Rankings
Formation: 1989.
It ranks 63 economies on 235 indicators which are incorporated from each of these economies. The indicators are used to evaluate the country's ability to foster an environment where enterprises can achieve desirable sustainable growth, generate employment and increase its citizen's welfare.
Categories: The economies were judged in four categories
Economic Performance
Infrastructure
Government Efficiency
Business Efficiency.