Nepal's 1st Woman President Bidya Devi Bhandari Re-Elected for Second Term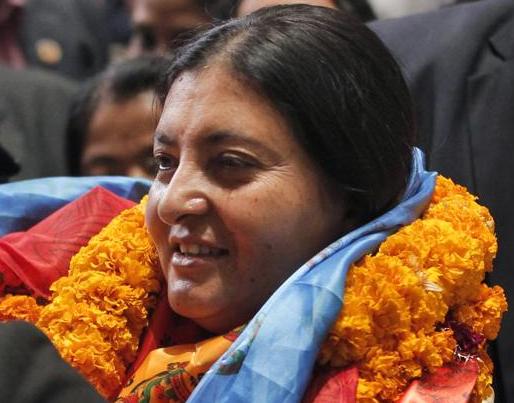 Nepal's 1st Woman President Bidya Devi Bhandari Re-Elected for 2nd Term- Details, Profile, Services
Nepal First Woman President, Bidya Devi Bhandari has been re-elected for the second term in office, securing Presidentship of Nepal on 13th March 2018.
The President of Nepal is the ceremonial head of state, under the new Republican Federal Constitution of Nepal.
Bidya Devi Bhandari was the candidate of the ruling Left Alliance and was supported by two major Madhesi parties.
Bidya Devi Bhandari in the presidential election defeated the main opposition Nepali Congress (NC) party leader, Kumari Laxmi Rai with an outstanding majority.
Bidya Devi Bhandari got elected with more than a two-thirds majority and gained 39,275 votes while the Nepali Congress's Laxmi Rai secured11,730 votes.
Bidya Devi Bhandari (aged 57 years) was born on 19th June 1961 in Bhojpur, Nepal. She became Nepal's first woman President in 2015.
Bidya Devi Bhandari, before being President was deputy leader of Communist Party of Nepal (Unified Marxist Leninist)-CPN-UML party led by incumbent Prime Minister Khadga Prasad Oli.
Bidya Devi Bhandari was also elected twice in parliamentary elections in 1994 and 1999. Earlier, she also served as Defence Minister of Nepal and has been an activist for women's rights.