Updated By: LatestGKGS Desk
Daily Current Affairs 17th July 2018 GK GS Bulletins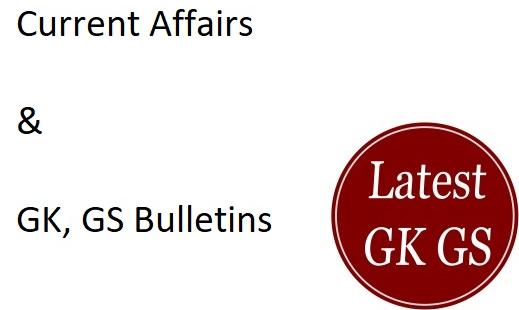 Latest Daily Current Affairs GK GS Bulletins
1. Google Doodle Celebrates Cosmologist Georges Lemaître 124th Birthday on 17th July 2018
2. 8th India-Oman Joint Commission Meeting held in Muscat
3. Central Information Commission (CIC) bilingual Mobile app launched (Hindi)
3. The University of Houston signed MoU with the Indian Institute of Petroleum and Energy (IIPE)
4. India has become the Vice-Chair (Regional Head) of the Asia Pacific Region of World Customs Organisation (WCO).
5. The University of Houston has signed a MoU with the Indian Institute of Petroleum and Energy (IIPE) to build scientific and technical knowledge through joint research
6. PV Sindhu lost against Japan's Nozomi Okuhara in Thailand Open Badminton Tournament
7. 6th India-Bangladesh Home Minister-level talks were held in Dhaka
8. Madhya Pradesh Government will appoint girls as a district Brand Ambassador who have recorded significant achievements in any field under the Beti Bachao-Beti Padhaoscheme.
9. Former Director General of Civil Aviation (DGCA) Kanu Gohain has passed away recently. He was 68 years old.
10. Elavenil Valarivan has won the women's air rifle gold medal in the 28th Meeting of Shooting Hopes junior international championship.
11. European Union (EU) and ASEAN have agreed to restart the process of establishing a Free Trade Agreement (FTA)
12. Novak Djokovic has won the Men's singles title of Wimbledon open 2018.
13. Angelique Kerber has won the women's singles title of Wimbledon open 2018.
14. Carnatic vocalist Aruna Sairam selected for Sangita Kalanidhi Award 2018
15. President Ram Nath Kovind has nominated four persons to the Rajya Sabha.
16. IFFCO launches e-commerce platform & app 'IFFCO iMandi' for farmers
17. PM Narendra Modi inaugurated the Bansagar Canal Project in Mirzapur
18. UN first time finalizes Global Compact for Safe, Orderly & Regular Migration
19. ISRO successfully ground tested high thrust version of Vikas Engine
20. The Life Insurance Corporation of India's (LIC's) board has approved acquiring up to 51 per cent stake in state-run IDBI Bank.