Updated By: LatestGKGS Desk
India's Supersonic Cruise 'BrahMos' Missile details, features, specifications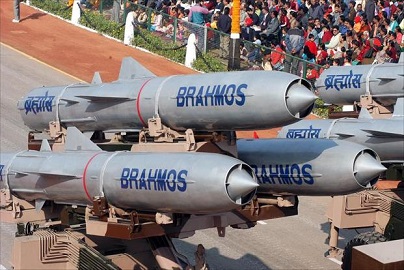 India's Supersonic Cruise Missile 'BrahMos'- details, features, specifications, striking capacity
BrahMos is a supersonic cruise missile developed by BrahMos Aerospace, a joint-venture between Russia's Mashinostroyenia and India's Defence Research and Development Organisation (DRDO).
BrahMos missile has been named after two rivers Brahmaputra and Moskva (a river in western Russia). It has established itself as a major force multiplier in modern-day complex battlefields with its impeccable land-attack, anti-ship capabilities with multi-role and multi-platform abilities.
Stages: BrahMos is a two-stage missile, the first one being solid and the second one ramjet liquid propellant. It is the self-propelled guided missile that sustains flight through an aerodynamic lift.
Payload: BrahMos is capable of carrying a warhead of 300 kilograms (both conventional as well as nuclear).
Accuracy: BrahMos operates on 'fire and forget principal'. It is claimed that a missile has strike accuracy rate of 99.99%. It has enhanced destructive power due to large kinetic energy (because of supersonic speed) on impact. It has a unique feature of quicker engagement time and non-interception by any known weapon system in the world.
Speed: BrahMos has a top supersonic speed of Mach 2.8 to 3 (roughly three times speed of sound). It is hailed as world's fastest anti-ship cruise missile in operation.
Range: BrahMos was initially capped at 290 km as per obligations of the Missile Technology Control Regime (MTCR). Since India's entry into this elite club, its range was extended to 450 km and plan is to increase it to 600km.
Launch Variants: BrahMos is capable of being launched from land, sea, sub-sea and air against sea and land targets. It follows a variety of trajectories like high, high-low, low, surface-skim etc. It can cruise at altitude up to 15km and terminal altitude of as low as 10 meters.
Induction: BrahMos has been already inducted in Indian Army and Navy. The air-launched version of the missile was test-fired in November 2017 for the first time from modified Su-30MKI aircraft, making it world's fastest supersonic cruise missile to be fired from a combat jet against a target.