Pakistan and Russia signed agreement to train Pakistani troops in Russia: Details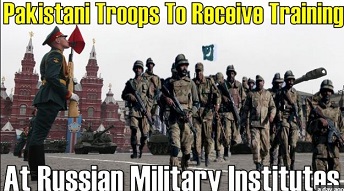 Pakistan, Russia sign agreement to allow Pakistani troops to receive training at Russian military training institutes: Details, Highlights
Pakistan and Russia have signed a contract on the admission of service members of Pakistan in Russia's Military Training Institutes.
The agreement was signed at the conclusion of the first meeting of Russia-Pakistan Joint Military Consultative Committee (JMCC), the highest forum of defence collaboration between both countries held in Rawalpindi, Pakistan.
This will be for the first time, Pakistani soldiers will undergo training at Russian military institutes. This agreement is considered as sign of further strengthening defence ties between Russia and Pakistan.
Russia-Pakistan Joint Military Consultative Committee (JMCC)
During the inaugural JMCC meeting, both sides discussed the present status of their defence relations with an aim to further strengthen, expand and diversify mutual cooperation.
Russia-Pakistan exchanged views on bilateral and major international issues, including the situation in West Asia and Afghanistan.
Russia-Pakistan also expressed the requirement of greater cooperative and collaborative approach among the global community to defeat extremism. Moreover, a comprehensive issue-based review was also carried out during which both countries expressed satisfaction on milestones achieved since the signing of defence cooperation agreement in 2014.
Russia-Pakistan also discussed regional security situation and matters of mutual interest, including enhancement of bilateral defence and security cooperation.