Digital India: Suresh Prabhu Launched Coffee KrishiTharanga services for stakeholders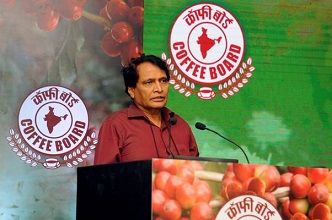 Union Minister Suresh Prabhu Launched Coffee KrishiTharanga services for coffee stakeholders: Details, Features, Aim, Purpose
Union Minister for Commerce & Industry, Suresh Prabhu on 4th September 2018 launched digital mobile extension services 'Coffee KrishiTharanga' for coffee stakeholders.

The Coffee KrishiTharanga services main aim is to facilitate customised information and services to increase productivity, profitability, and environmental sustainability. These customized services are two ways, 24 X 7 service supports.

The "Coffee KrishiTharanga" services were pilot tested in the Chikmagalur and Hassan districts of Karnataka, covering 30000 farmers during the first year and will now be extended to remaining growers in a phased manner. NABARD has partly funded the Pilot project.

The Coffee KrishiTharanga services will help to reach maximum growers within a limited period; improve the efficiency through digitization; and leverage existing mobile reach for wider delivery of improved technology.
The Coffee KrishiTharanga services initiative is in line with PM Narendra Modi's Digital India initiative.
Union Minister, Suresh Prabhu on the occasion also launched pilot projects on data analytics, artificial intelligence, IOTS, and blockchain.