Updated By: LatestGKGS Desk
ECI withdraws 'NOTA' option from Rajya Sabha & Legislative Council elections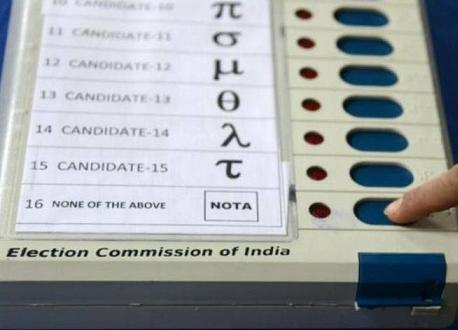 ECI withdraws 'NOTA' option from Rajya Sabha & Legislative Council elections: Details, Highlights
The Election Commission of India (ECI) on 11th September 2018 withdraws the provision of NOTA (None of the above) option from ballot papers of the Rajya Sabha and the state's Legislative Council elections as per the Supreme Court directive.

The ECI, through the notification, ordered the returning officers for Rajya Sabha and legislative council to ensure that there is no NOTA column displayed in the ballot paper.
The Supreme Court bench comprising of CJI Dipak Misra and justices A M Khanwilkar and D Y Chandrachud on 21st August 2018 ruled that the 'None of The Above' (NOTA) option will not be applicable for voting in the Rajya Sabha elections. NOTA could continue to be an option in the direct elections such as the Lok Sabha and the state assemblies.
About Election Commission of India (ECI)
Election Commission of India is a permanent body entrusted for the conduct of free and fair elections. An independent Election Commission has been provided for in Article 324 of the Constitution of India.
ECI most important function is to prepare an up-to-date list of all the persons who are entitled to vote at the elections.
Election Commission is entrusted with the Election of President; Election of Vice-President; Election of Lok Sabha as well as Rajya Sabha; Elections to State Legislatures as well as Legislative Councils; Reservation of Seats in Lok Sabha and State Legislatures; Qualifications of the MPs and MLAs; and Determination of population for purposes of the election.
At present, Om Prakash Rawat is the Chief Election Commissioner of India, since 23 January 2018.