Rajasthan's first ever lion safari inaugurated at Nahargarh Biological Park: Details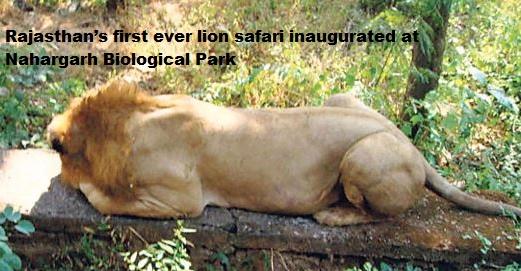 Rajasthan's first ever lion safari inaugurated at Nahargarh Biological Park: Details, Significance, Highlights
Rajasthan's first lion safari was inaugurated at the Nahargarh Biological Park, it was inaugurated by Rajasthan Forest Minister, Gajendra Singh on 14th Septer 2018.
Nahargarh Biological Park is situated on Delhi-Jaipur National Highway in the Aravalli foothills, nearly 12 kilometers from state capital Jaipur (Pink City).
Nahargarh Biological Park lion safari will be open for visitors from October 2018.
Nahargarh Biological Park infrastructure has been developed by Jaipur Development Authority (JDA) in around 38 hectares for about Rs 4 crores.
Nahargarh Biological Park's lion safari project is spread across 38 hectares. Its foundation stone was laid by Rajasthan Chief Minister Vasundhara Raje in June 2016.
Nahargarh Biological Park lions were brought from Junagarh, Gujarat under an exchange programme. A Total of 10 lions will be released in the park in a phased manner. Initially, only three lions have been released.
Nahargarh Biological Park will serve for breeding lions and also a center of attraction for tourists. It will provide new habitat to lions and also add tourism venue to the Pink City. Visitors will be able to see lions in their natural habitat in the park is enclosed by a fence. They will be taken on a nearly 4-kilometer safari in a closed bus.
Besides from lions, the park also hosts wolves, jackals, and hyenas.
Moreover, the leopard safari at Jhalana, which is a bigger project, will be soon inaugurated by the Rajasthan CM.
Rajasthan (India)
Formation: 30th March 1949
Capitals: Jaipur
Largest City: Jaipur
Districts: 33
Governor: Kalyan Singh
Chief Minister: Vasundhara Raje (BJP)