Updated By: LatestGKGS Desk
Supreme Court removes banning of Saridon & 3 other FDCs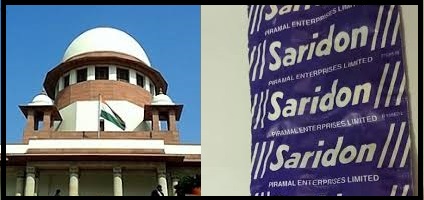 Supreme Court removes banning of Saridon & 3 other FDCs: Details, Verdict, Background, Highlights
The Supreme Court of India on 17th September 2018 removed the banning and allowed the sale of popular painkiller Saridon and three other banned fixed-dose combinations (FDCs) in medical stores across India.
The Supreme Court ruling was ruled by a two bench of judges comprising Justices R F Nariman and Indu Malhotra.
The SC has also issued a notice to the centre and sought its reply on the plea filed by some drug makers and pharma associations.

The SC has allowed the sale of Piramal Healthcare's Saridon, GlaxoSmithKline's Piriton, Juggat Pharma's Dart and another drug, the details of which are not known.
Background

Union Health Ministry issued a notification last week prohibiting the manufacture, sale, and distribution of 328 Fixed Dose Combinations (FDCs) for human use with immediate effect.
Health Ministry also restricted the manufacture, sale, and distribution of six FDCs subject to certain conditions. The action was taken by the Ministry under the powers conferred by section 26A of the Drugs and Cosmetics Act, 1940.
Latest Supreme Court Updates