Updated By: LatestGKGS Desk
India's first flood forecast system established in Kolkata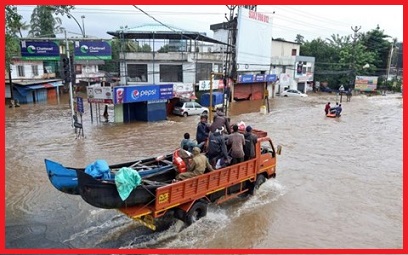 India's first flood forecast system established in Kolkata: Details
Kolkata Municipal Corporation (KMC) has recently established a Flood Forecasting and Early Warning System (FFEWS) for Kolkata, West Bengal. It is also India's first comprehensive city-level FFEWS.
The Flood Forecasting and Early Warning System (FFEWS) aimed at helping city officials and citizens act decisively to minimize damage before and during disasters.
Key Highlights:
Asian Development Bank (ADB) from its Urban Climate Change Resilience Trust Fund under the Urban Financing Partnership Facility, funded this project with technical assistance of a $1 million to KMC.
The system has been designed to provide forecasts as well as real-time information on inundation, temperature, air quality, and other climate-related data through 400 sensor nodes.
It will send real-time data to a cloud-based dashboard which will send risk information through mobile alerts and radio/television messaging.
It will reduce economic loss and impacts on livelihood and improve flood awareness and safety at a community level.

It is a part of ADB's 20-year partnership with KMC.
Earlier grants to upgrade and expand the sewerage and drainage network in Kolkata include $250 million loan under the Kolkata Environmental Improvement Project and $400 million loan under Kolkata Environmental Improvement Investment Program.
West Bengal
Capital: Kolkata
Largest City: Kolkata
District: 23
Offcial Language: Bengali, English
Chief Minister: Mamata Banerjee
Governor: Kesari Nath Tripathi
Asian Development Bank (ADB)
Established: 1966
Headquarters: Manila, Philippines
President: Takehiko Nakao
Members: 67 (48 regional members)