Updated By: LatestGKGS Desk
Indian Railways New Train-19 Will Enable Delhi-Mumbai, Delhi-Kolkata in 12-14 hours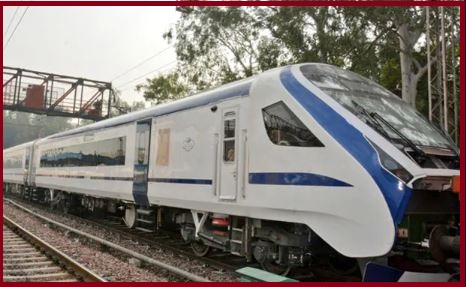 Indian Railways New Train-19 Will Enable Delhi-Mumbai, Delhi-Kolkata in 12-14 hours: Details, Features, Highlights
Indian Railways is claiming that with its new 'Train-19' it is possible to make Delhi-Mumbai and Delhi-Kolkata in 12-14 hours.
As per the Indian Railways officials, Train-19 will be a Rajdhani-style version of the successful Train 18 or Vande Bharat Express train service.
Recently, Train-18 was a win-win moment for Indian Railways, a new offering in self-propelled engine-less train travel, and the experiment was successful, and now to modify with design and manufacturing of the sleeper-version of Train 18 the new Train-19 is being introduced.
The Train-19 will be designed and manufactured at the Integral Coach Factory (ICF) Chennai, under Modi government's 'Make in India' initiative.
The Train-19, in a nutshell, will be a self-propelled upgraded Rajdhani Express train service, along the lines of Humsafar Express in terms of passenger-amenities.
The Train-19 will be a state-of-the-art self-propelled train which will reduce travel time between important metro cities like Delhi-Mumbai, Delhi-Kolkata to just 12-14 hours.
Train 19 Features
1. Rajdhani, Humsafar Express style train; will not be hauled by any locomotive
2. Engine-less, self-propelled Train 19 will accelerate and decelerate faster, reducing travel time substantially
3. A comfortable world-class train journey, jerk-free ride
4. Automatic doors with sliding footsteps fully sealed gangways
5. Bullet-train style aerodynamic nose, metro-style driver cabin