Richie Benaud gets Australia's 40th Sports Legend on his 88 birthday posthumously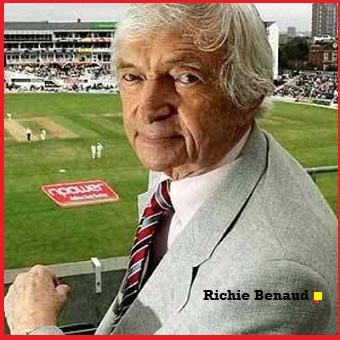 Richie Benaud posthumously accorded Australia's 40th Sports Legend on his birthday: Details, Sports Career Highlights
Legendary Australian cricketer Richie Benaud posthumously accorded with the title of 40th Legend of Australian Sport on his birth anniversary (6th October 2018) by Sports Australia Hall of Fame.
Late. Richie Benaud on his 88th birthday posthumously became the third any cricketer to receive the 40th Legend of Australian Sports title.
Richie Benaud also was known as 'Voice of Cricket' who captained the Australia Cricket team. He was also a longtime popular commentator.
Richie Benaud was born on 6th October 1930 in Penrith, Australia. He passed away at the age of 84 years on 10 April 2015 in Sydney, Australia.
Career Highlights
Richie Benaud from the age of 16, started playing for the club. He was a great leg-spinner and he also showed a stint of batting.
Richie Benaud played his first Test against the West Indies in 1952. He played 63 ODIs, 28 of whom he was captain
Richie Benaud became Australian cricket captain in 1958. In his captaincy, Australia won the Ashes series 3 times.
Richie Benaud overall played 28 Test matches while the captain, 12 of which won and 11 draws.
Richie Benaud got retired in 1964 from cricket and went to journalism. At the same time, he started the writing work.
For almost three decades, Richie remained a familiar face of 'Channel 9' and kept coverage of cricket.
Richie Benaud cricket commentary became very popular and people began to know him by the name of 'Voice of Cricket'. During the Ashes series in 2005, he commented for the last time.
Richie Benaud was the first player to score 2000 runs in Test matches and take 200 wickets.