Note Ban: Bill Gates U Turn from Demonetization to digitization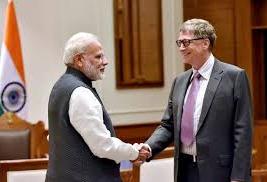 Bill Gates praised Prime Minister Narendra Modi on NITI Aayog's event now changed his words and says that he has no comments on the note ban
Earlier Bill Gates stated that note ban would lead to eliminate shadow money from the economy due to new security features and ban of big denomination notes.
Bill Gates also stated that Digital transactions would be promoted due to demonetisation but now Bill Gates stated that he has nothing to say for demonetisation.
Bill Gates U Turn in press conference over demonitization issue
A journalist asked Bill Gates that we have seen in the newspapers you have praised Modi's governance for note ban so do you think that people for their money should stand in line is a sign of good governance.
In reply Bill Gates stated that he does not want to say anything on note ban, no one has taken his advice and he is the supported of Digitalisation not demonetisation.