India & China signed agreement on security cooperation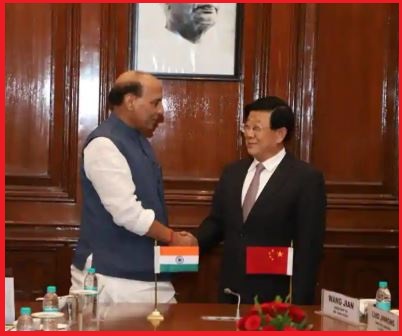 India & China signed an agreement on security cooperation: Details, Aim, Highlights
India and China recently on 23rd October 2018, have signed an agreement on internal security cooperation. It is the first ever time when both the two countries have entered into such an agreement.
The agreement was signed by India's Home Minister Rajnath Singh and China's State Councilor and Minister of Public Security Zhao Kezhi in New Delhi.
The agreement on internal security cooperation aims to strengthen and consolidate assistance in counter-terrorism, organised crimes, drug control, human trafficking and exchange of information, marking a new beginning between the two countries.
The agreement will cover areas of intelligence sharing, exchange programme, sharing of best practices, cooperation in disaster mitigation besides others.
India & China First High-Level Meeting
The agreement followed the first high-level meeting on bilateral security cooperation co-chaired by Rajnath Singh and Zhao. During this meeting, two sides discussed counter-terrorism cooperation and welcomed increased cooperation between the two countries in the area of security during the meeting.
Zhao was heading a delegation of over 30 Chinese diplomats during his visit to India from 21st October 2018 to 25 October 2018.
China
Capital: Beijing
Largest City: Shanghai
Official Language: Standard Chinese
Currency: Renminbi
President: Xi Jinping