Nikki Haley appointed as US Ambassador of United Nations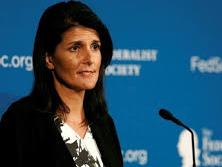 Indian Origin Nikki Haley becomes the United States Ambassador of United Nations choosen by Donald Trump
Nikki Haley is the Indian American Governor of South Carolina, the youngest Governor at the age of 44.
Haley is considered as one of the most rising stars of Republican Party and is born as Nimrata Nikki Randhawa to Sikh immigrates.
Nikki Haley considered as rising star of Republican party
Nikki Haley has a little experience in foreign policy so anyone can raise questions about her qualification in foreign policy of such a high profile body.
Donald Trump held a meeting in New York with Nikki Haley as a part of round meeting with other potential officials of the cabinet.
Haley's parents earlier lived in Punjab but then migrated to South Carolina.