United Nations celebrates World Toilet day 19 november 2016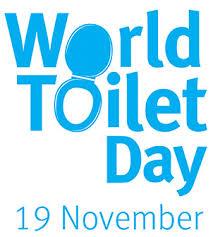 World Toilet Day to spread awareness on using toilets, United Nations celebrates this day
United Nations World Toilet Day is celebrated on 19th November 2016 to spread awareness among the people who live without toilets and depict the diseases caused due to inadequate access to sanitation.
This day is an opportunity to spread awareness to 2.4 billion people all around the world who live without toilets.
Theme for World Toilet day Toilets and Jobs and focuses on how lack of sanitation impact peoples' life
Secretary General Ban-Ki-moon stated that toilets play a critical role in creating strong economy and lack of toilets at work and at home has severe consequences including poor health leading to exhaustion, reduced concentration and decreased productivity.
Secretary General believes that every dollar invested in water and sanitation leads to $4 in economic returns.