Updated By: LatestGKGS Desk
World Toilet Day Celebrations On 19 November: 2018 Theme, Aim, Significance, History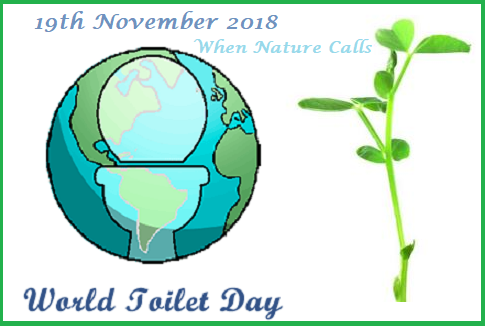 World Toilet Day Celebrations On 19 November: 2018 Theme, Aim, Significance, History
The World Toilet Day is celebrated every year on 19 November around the world to raise awareness and inspire action to meet ways to combat the global sanitation crisis.
The World Toilet Day focuses to take actions in ensuring that everyone has a safe toilet by 2030, which is a part of Sustainable Development Goal (SDG) 6: sanitation and water.
The World Toilet Day aims to draw the attention of people around the world to raise global awareness of the daily struggle for proper sanitation which in fact is a human right along with clean water. It is coordinated by United Nations-Water in collaboration with Governments of member countries and relevant stakeholders.
The World Toilet Day-2018, the theme is 'Toilets and Nature' with its campaign "When Nature Calls, Take Actions". The theme urges us to use and must build toilets and sanitation systems that work in harmony with ecosystems.
Nowadays, the significance of this World Toilet Day has become an important platform to demand action from governments. It aims brings together different groups, such as the media, the private sector, development organisations and civil society in a global movement to advocate for safe toilets.
In India, the observance of the 'World Toilet Day' highlights the importance of Swacch Bharat Mission which to make India clean and open defecation free (ODF) by 2019.
The World Toilet Day (WTD) was established by World Toilet Organisation in 2001. United Nations General Assembly (UNGA) had given it official recognition in July 2013 in its 67th session under the global campaign of Sanitation for All resolution.