Updated By: LatestGKGS Desk
India Celebrates Ayurveda Day on Dhanawantari Jayanti (Dhanteras) 5th November 2018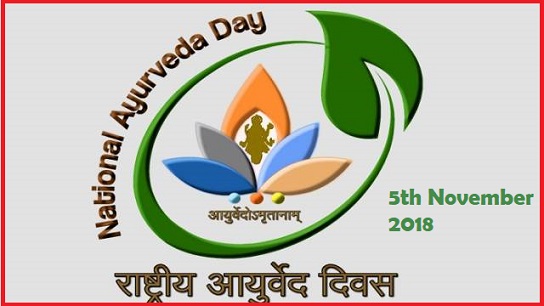 India Celebrates Ayurveda Day on 'Dhanawantari Jayanti' or 'Dhanteras' 5th November 2018: Details, Aim, Celebrations, Significance
India celebrates 'Ayurveda Day' or 'National Ayurveda Day' every year on Dhanawantari Jayanti (Dhanteras) with an aim to promote Ayurvedic medicine and its importance in curing several diseases.
This year Ayurveda Day-2018 is being observed on Monday (5th November 2018).
Ayurveda is the traditional Hindu system of medicine based on the idea of balance in bodily systems and uses diet, herbal treatment, and yogic breathing. It has been incorporated in Atharva Veda, the last of the four Vedas.
2018 Celebrations
On Ayurveda Day-2018 occasion, the Ministry of Ayush has organised a "National Seminar on Entrepreneurship and Business Development in Ayurveda" in association with NITI Aayog on 4th and 5th November 2018 at Dr. Ambedkar International center, New Delhi. This event was organised with the aim to encourage entrepreneurs and Ayurveda stakeholders towards businesses opportunities in the sector.
Background
The first Ayurveda Day was observed on 28 October 2016 on the occasion of Dhanwantari Jayanti with a theme 'Ayurveda for Prevention and Control of Diabetes'.
The Ayurveda Day is celebrated every year Ayurveda Day every year on the occasion of Dhanwantari Jayanti. This day marks birth date of Lord Dhanvantari, which occurs before two days before Diwali on Dhanteras.
Dhanvantari is the form of Lord Vishnu. He is considered as the ideal doctor and manifestation of compassion, representing the wisdom of ayurveda in practical application.