Updated By: LatestGKGS Desk
Google Doodle Celebrates 44th Anniversary of Arecibo Message on 16th November 2018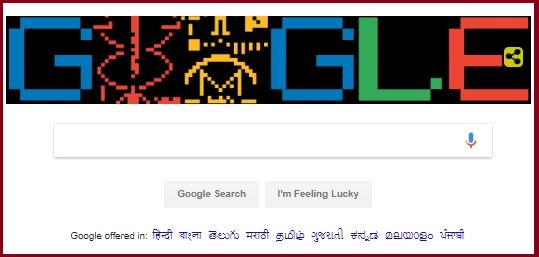 Google Doodle Celebrates 44th Anniversary of the Arecibo Message: Details, Significance, Highlights
Today on 16th November 2018, search engine giant, Google is celebrating the 44th anniversary of the Arecibo Message with a colorful doodle.
Google has made its doodle colorful animated moving G-O-O-G-L-E with the theme colors in a red, green, yellow, blue and black color, demonstrating Arecibo Message.
The day back on 16th November 1974, scientists Frank Drake and Carl Sagan, among others, sent a message from the Arecibo radio telescope, located in the community of the same name in Puerto Rico.
Their three-minute radio message-a series of exactly 1,679 binary digits (a multiple of two prime numbers) which could be arranged in a grid 73 rows by 23 columns-was aimed at a cluster of stars 25,000 light years away from earth.
This radio signal was the first message that humanity deliberately sent to another solar system. Engineers translated it into sound in order that those gathered could perceive it during transmission. But the mediator itself is a silent, invisible radio pulse traveling at the speed of light.



Latest Google Doodle Updates