Updated By: LatestGKGS Desk
Scientists develop artificial human lungs pair using 3D printing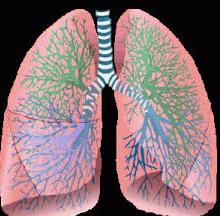 Scientists from Brno University of Technology developed artificial human lung Model using 3D printing
The scientists from Czech Republic have discovered an artificial human lung model using 3D printing and other technologies.
This model was developed from the researchers of Brno University of Technology.
The Human lung model helps to simulate problems like Asthama and other diseases and their treatments
Human lung model is a mechanical and computer based model of the lung which has been developed with the help of an array used in modern technologies including 3D printing.
This model can also be used as a reference model for developing inhaled drugs.
The model also showcases whether an inhaled drug will settle in the concrete area or not where we need it to.
Human Lung model can formulate treatment methods which is more precise than past testing.
Latest Human Body Updates