Updated By: LatestGKGS Desk
India and UAE signs currency swap agreement in Abu Dhabi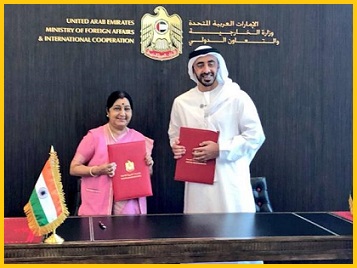 India and UAE signs currency swap agreement: Details, Aim, Purpose, Highlights
India and UAE have signed a 'Currency Swap Agreement' on 4th December 2018 in Abu Dhabi. This currency swap is for 200 crore dirhams or Rs. 3,500 crore ($496 million), depending on which central bank requests the amount.

The documents were signed after the 12th session of India-UAE Joint Commission Meeting for Economic and Technical Cooperation. The meeting was jointly co-chaired by External Affairs Minister Sushma Swaraj and her UAE counterpart Sheikh Abdullah bin Zayed Al Nahyan in Abu Dhabi.
The Currency Swap Agreement aims to boost investment and enable direct trade without using dollars or other international currencies.
This bilateral currency swap agreement between India and the UAE is also expected to reduce the dependency on hard currencies like the U.S dollar," By giving a push to the two local currencies, the swap deal would also reduce the transmission costs arising from exchange rate risks
India and UAE on the occasion also signed a Memorandum of Understanding (MOU) for Development Cooperation in Africa.
UNITED ARAB EMIRATES (UAE)
Capital: Abu Dhabi
Largest City: Dubai
Official Language: Arabic
Currency: UAE dirham (AED)
President: Khalifa bin Zayed Al Nahyan
Prime Minister: Mohammed bin Rashid Al Maktoum