India Water Impact Summit 2018 For Clean Ganga Concludes in New Delhi: Details Agenda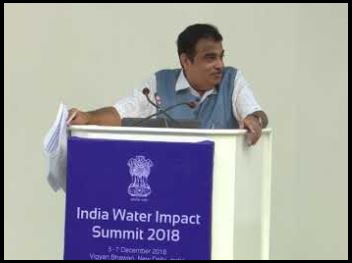 India Water Impact Summit 2018 For Clean Ganga Concludes in New Delhi: Theme, Details, Agenda, Highlights
The India Water Impact Summit-2018 was held in New Delhi. It was jointly organized by National Mission for Clean Ganga (NMCG) and Centre for Ganga River Basin Management and Studies (cGanga).
The theme for the 2018 version was: 'Showcasing and Enhancing Impacts of National and International Efforts on Ganga Rejuvenation.'
The India Water Impact Summit-2018 discussion was on the rejuvenation of Ganga River Basin. There was also multi-country dialogue on subject showcasing of technological innovations, research, policy frameworks and funding models from India and abroad.
The India Water Impact Summit-2018 was attended by about 200 domestic and international participants from nearly 15 countries and more than 50 Central, State and Municipal Government representatives participated in the summit.
The India Water Impact Summit-2018 saw sessions on afforestation and biodiversity, urban river/water management plans, creating a global ecosystem for financing Ganga Rejuvenation Programme and tapping into global capital markets for long-term project finance.
The India Water Impact Summit-2018 Key Focus:
Spotlight on 5 states Uttarakhand, Uttar Pradesh, West Bengal, Delhi, and Bihar. Its objective was to showcase efforts and works going on within the respective states.
Ganga Financing Forum It was an inaugural forum that brought a number of institutions to common knowledge, information and partnership platform. It brought together financial institutions and investors interested in Namami Gange programmes.
Technology and Innovation It was pilot/demonstration programme aimed at providing an opportunity for technology and innovation companies from around the world to showcase their solutions for addressing problems prevalent in the river basin.
India Water Impact Summit is an annual event where stakeholders get together to discuss, debate and develop model solutions for some of biggest water-related problems in India.