Updated By: LatestGKGS Desk
NITI Aayog's SDG India Index Baseline Report 2018: Key Findings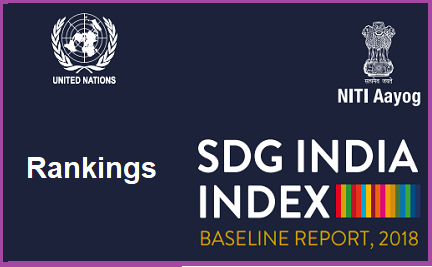 NITI Aayog's SDG India Index Baseline Report 2018-Himachal Pradesh, Kerala, Tamil Nadu ranked as Front Runners: Key Findings
The Sustainable Development Goal (SDG), SDG India Index: Baseline Report 2018 was released by the NITI Aayog on 21st December 2018 in New Delhi. It documented the progress made by India's States and Union Territories (UTs) towards implementation of the 2030 SDG targets.
The SDG Index score for Sustainable Development Goals 2030 ranged between 42 and 69 for State and between 57 to 68 for Union Territories.
The ranking took India's average score at 57.
1. Aspirants: Assam, Bihar and Uttar Pradesh were marked in the 'Aspirants' category.
2. Performers: Andhra Pradesh, Arunachal Pradesh, Chhattisgarh, Goa, Gujarat, Haryana, Jammu & Kashmir, Jharkhand, Karnataka, Madhya Pradesh, Maharashtra, Manipur, Meghalaya, Mizoram, Nagaland, Odisha, Punjab, Rajasthan, Sikkim, Telangana, Tripura, Uttarakhand, West Bengal, Andaman & Nicobar Islands, Dadra & Nagar Haveli, Daman & Diu, Delhi and Lakshadweep were marked in the 'Performers' category.
3. Front Runners: Himachal Pradesh, Kerala, Tamil Nadu, Chandigarh, and Puducherry were marked in the 'Front Runners' category.
4. Achievers: None of the states/UTs were marked in the 'Achievers' category.