Indian Teen Vedangi Kulkarni from Pune became the fastest Asian to cycle the globe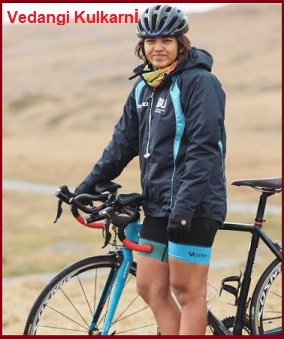 Indian Teen Vedangi Kulkarni became the fastest Asian to cycle the globe: Details, Achievements, Highlights
Indian teen athlete Vedangi Kulkarni became the fastest Asian to cycle the globe. She spent 159 days peddling up to 300 km a day in 14 countries.
Vedangi Kulkarni fixed the standard distance of 29,000 km required by running a cyclone cycle in Kolkata on 23rd December 2018.
Vedangi Kulkarni started off from Perth in July 2018 and will be flying back to the Australian city to complete the record.
Vedangi Kulkarni entered Kolkatta in India from Russia to do the last 4,000 km of cycling. She lugged the cycle with the heavy luggage that includes cycle tools, camping equipment and clothing in desolate stretches all alone and did not have anyone accompanying her for over 80 percent of the route.

Vedangi Kulkarni encountered temperatures ranging from -20 degree Celsius to 37 degrees Celsius during the ride. Her entire cycling trip was financed by her parents.
Vedangi Kulkarni (20-years-old) who hails from Pune Maharashtra. She is a student of sports management at the University of Bournemouth, UK.
The world record is in the name of British adventurer Jenny Graham (38-years-old) is the fastest woman to have cycled the globe in 124 days in 2018.