Updated By: LatestGKGS Desk
World Economic Forum Releases 14th Global Risks Report-2019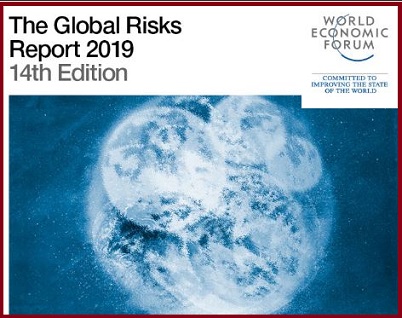 World Economic Forum Releases 14th Global Risks Report-2019: Details, Key Findings, Highlights
The World Economic Forum (WEF) released its annual Global Risk Report 2019, the 14th edition on 17th Jan. It describes changes occurring in the global risks landscape from year to year and identifies global catastrophic risks.
The Global Risk Report 2019 also examines the interconnectedness of risks and considers how the strategies for the mitigation of global risks might be structured.
Key Findings & Highlights
The report's findings are based on the annual Global Risks Perception Survey, which asks the Forum's network of business, government, civil society and thought leaders to gauge the risks facing our world.
The risks in the report have been divided into 2 parts: Top 10 Risks by Likelihood and Top 10 Risks by Impact.
Further, the risks were dived into 5 categories of Economic, Environmental, Geopolitical, Societal, Technological.
It was done in partnership with Marsh McLennan Companies and Zurich Insurance Group.
The report was released ahead of the World Economic Forum's Annual Meeting in Davos.
Risks of major -power political confrontations are imminent. With risks intensifying, the collective will to tackle them is lacking.
Environmental threats dominate the list for the third year in a row – both in terms of impact and likelihood. 'Failure of climate-change mitigation and adaptation' – is in second place on both lists of likelihood and impact.
Cyber-attacks feature in both top 10s, at number five for likelihood and seven for impact, while data fraud is at number four for likelihood, reflecting an overall trend as technology shapes the risk landscape.
In terms of Societal Risk, water crises, defined as "a significant decline in the available quality and quantity of fresh water, resulting in harmful effects on human health and/or economic activity has also featured.
The Global Risk Report 2019 also warns of the macroeconomic risks that could be faced ahead in 2019.