Updated By: LatestGKGS Desk
CSIR Green Firecrackers that absorb dust Features, Research, Crackers for Diwali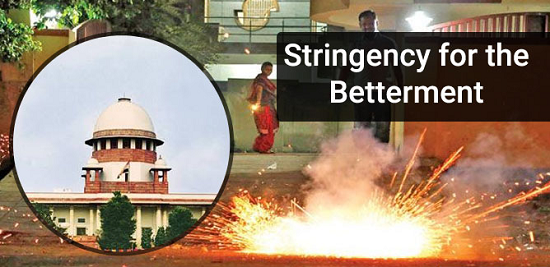 Supreme Court: Green Fire Cracker Important Facts About Crackers and the Council of Scientific and Industrial Research (CSIR)
On the sale of fireworks on Diwali, the Supreme Court said in its decision that burning fireworks on Diwali is not barred. But crackers can be burnt for only 2 hours between 8 pm and 10 pm. At the same time, only green crackers, ie fewer pollutants, will be able to use firecrackers on Diwali or any other festival.
However, any crackers cannot be completely polluted free, but scientists of the Council of Scientific and Industrial Research (CSIR) have prepared a form of fireworks that can be kept in the category of green firecrackers.
These crackers have the ability to absorb dust. Also, the emission levels from these firecrackers are also very low.
Among them, there is a formula of firecrackers that can cause water molecules, which can help reduce dust and dangerous elements.
Apart from this, the prototype of e-Crackers i.e. electronic fireworks is also ready and if people wish, they can also burn e-crackers on Diwali.
These formulas of fireworks developed by the scientists of the NEERI Institute of CSIR have been sent to PESO the Petroleum and Explosives Safety Organization.
Once the PESO approves it, then these firecrackers will be constructed faster so that Diwali The demand for firecrackers could be completed.
With these green firecrackers of CSIR, the reduction of dirty nitrous oxide and sulfur dioxide, as well as small particles emissions, can also be reduced by 30-35%.