Updated By: LatestGKGS Desk
Indian Navy Chief Launches Guided Missile Destroyer 'INS Imphal'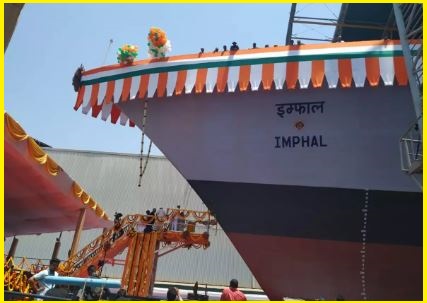 Indian Navy Chief Launches Guided Missile Destroyer 'INS Imphal': Details, Features, Aim, Significance
Indian Navy Chief at Mazagon Dock Shipbuilders Limited (MDL) in Mumbai launched the indigenously designed and constructed the third ship under Project 15B, 'INS Imphal' a guided missile destroyer
INS Imphal ship is designed by the Indian Navy's Directorate of Naval Designs, New Delhi.
INS Imphal weight 3,037 tonnes, spans 163 meters in length, 17.4 meters at beam and can displace 7,300 tonnes. The ships will be propelled by four gas turbines which can achieve a speed of more than 30 knots.
INS Imphal guided-missile destroyer has incorporated several modern concepts of a new design which helped in improved survivability, see keeping, stealth, and maneuverability. The ships use radar transparent deck fittings due to which enemy can't detect this ship easily.
The P15B ships can carry two multi-role helicopters in it. These ships are also equipped with state-of-the-art weapons and sensors which include multi-functional surveillance radars and vertically launched missile system, can help for long distance engagement of shore, sea-based and air targets.
'INS Imphal' is the third ship under the project P15B. First, two ships are Vishakhapatnam and Mormugao. All three ships will be expected to join the Indian Navy by 2021.