Updated By: LatestGKGS Desk
Google Doodle Celebrates Earth Day On 22nd April 2019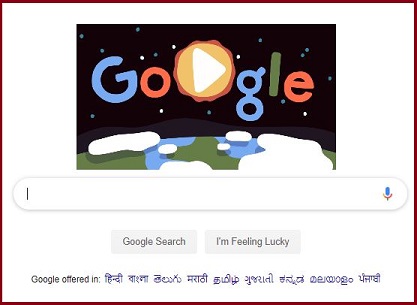 Google Doodle Celebrates Earth Day On 22nd April 2019: Details, Significance, Highlights
Search engine giant Google on 22nd April 2019 is celebrating Earth Day-2019 with a colorful doodle.
Today Google with a colorful animated series of a 2D Animated moving doodle is educating us around the planet we call home to discover some of the awe-inspiring organisms which inhabit it.
Google's Doodle in an interactive slideshow explores 6 organisms across elevations along with their earthly superlative!
Wandering Albatross (The widest wingspan of any living bird)

Coastal Redwood (The tallest tree in the world)

Paedophryne Amauensis (Holds the world record for the smallest frog, and smallest vertebrate)

Amazon Water Lily (Among the world's largest aquatic plants)

Coelacanth (At 407-million-years old, it's one of the world's oldest living species)

Deep Cave Springtail (Among the deepest-dwelling terrestrial creatures)
Today's Doodle was created by Doodler Kevin Laughlin.
Earth Day 2019
Earth Day is celebrated every year on 22nd April around the world to build support for environmental protection across the globe. It aims to encourage people to carry out activities that will benefit Earth, such as recycling more, using solar power or plant trees.
Earth Day also aims to raise awareness that humans have a collective responsibility to promote harmony with nature and to balance the economic, social and environmental needs of present and future generations.
Earth Day 2019, the theme is 'Protect Our Species'. It is dedicated to raising awareness about the accelerating rate of extinction of millions of species and the causes and consequences of this phenomenon.
Latest Google Doodle Updates