Updated By: LatestGKGS Desk
India's Last Captive White Tiger Dies At The Age Of 18 Years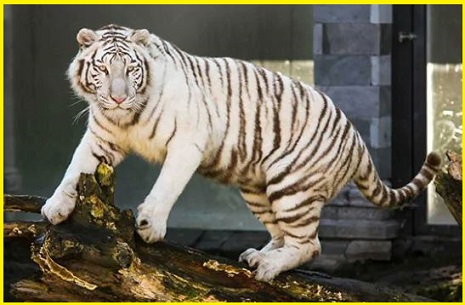 India's Last Captive White Tiger Dies At The Age Of 18 Years: Details, Highlights
India's last captive white tiger named 'Bajirao' died at the age of 18 years, recently at Sanjay Gandhi National Park, Mumbai.
The tiger 'Bajirao' was born at National Park in 2001.
White tigers are not a separate sub-species of Tiger. The White color is basically due to a pigmentation The White color is due to lack of red or
yellow pheomelanin pigment and the presence of unique recessive genes.
White tigers were once found in Madhya Pradesh, Assam, West Bengal, Bihar. Now there are no white tigers in the wild.
The last white tiger reported in wild was captured in Rewa forest Madhya Pradesh.
Sanjay Gandhi National Park is in Maharashtra. It is located in Mumbai. It has a protected archaeological site called Kanheri caves.
Latest Extinct Animals Updates