Updated By: LatestGKGS Desk
GK Questions 19th May 2019 General Knowledge, Current Affairs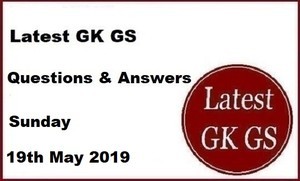 Daily GK Questions 19th May 2019 General Knowledge, Current Affairs
1. Which country becomes the first Asian nation to approve same-sex marriage?
Ans:- Taiwan
2. When was Lok Sabha Election 2019: 7th and final phase polling and conducted for how many constituencies?
Ans:- 59
3. Which Indian movie won the third prize in the international section of Nespresso Talents 2019 in Cannes?
Ans:- Seed Mother

3. UNDRR awarded PM Modi Secretary P.K. Mishra with which award?
Ans:- Sasakawa Award 2019

4. Which Indian names were named as ICC commentators for Cricket World Cup 2019?
Ans:-Sourav Ganguly, Sanjay Manjrekar, Harsha Bhogle

5. In ICC World Cup 2019 for the first time, every team will have which officer?
Ans:- Anti-corruption Officer
6. China has blocked all the language editions of which online encyclopedia?
Ans:- Wikipedia

7. Which nation has banned headscarf in primary schools?
Ans:- Austria

8. Which sportsperson received the Knighthood on 16th May 2019?
Ans:- Sir Andy Murray

9. What is the name architect regarded as a pillar of modern architecture, passed away at 102 years in the US
Ans:- I. M. Pei

10. Which nation would be hosting the 2023 Asian Football Cup?
Ans:- China