Updated By: LatestGKGS Desk
GK Questions 17th May 2019 General Knowledge, Current Affairs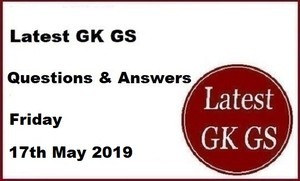 Daily GK Questions 17th May 2019 General Knowledge, Current Affairs
1. When is the World Telecommunication and Information Society Day is Celebrated Every Year?
Ans:- 17th June
2. Lok Sabha Election 2019: Election Commission has ordered to stop campaigning in West Bengal on 16th May at 10 PM by using which article of Indian constitution?
Ans:- Article 324
3. What is the address of the Lokpal first-ever website?
Ans:- www.lokpal.gov.in

3. Which country's department has created 100% recyclable plastic?
Ans:- United States Department of Energy (DOE)

4. Which Indian Coast Guard Ship on 17th May 2019, got decommissioned from services after 29 years?
Ans:- ICGS Vigraha

5. In ICC World Cup 2019 for the first time, every team will have which officer?
Ans:- Anti-corruption Officer
6. China has blocked all the language editions of which online encyclopedia?
Ans:- Wikipedia

7. Which nation has banned headscarf in primary schools?
Ans:- Austria

8. Which institution recently launched the 'Vision 2021' document for e-payment system?
Ans:- RBI

9. Which country's President has declared a national emergency to protect its computer networks?
Ans:- United States

10. Which nation would be hosting the 2023 Asian Football Cup?
Ans:- China