Updated By: LatestGKGS Desk
Jammu and Kashmir Weather Dal Lake, Kashmir Valley freezes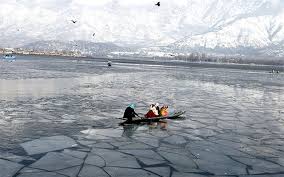 Jammu and Kashmir, Leh, Ladakh weather, lakes Kashmir Valley freezes coldest weather
The people of Jammu and Kashmir experience high cold wave which tightened the Kashmir valley on Saturday night.
The temperature came to its lowest in the night resulting from freezing of famous Dal Lake first time in this winter season.
Srinagar witnessed coldest night at minus 4.5 degrees of temperature
The freezing weather freezes Dal Lake and other water bodies as well as the drinking taps.
In Ladakh region, Leh also experienced the coldest night with minus 11.6 degrees of temperature which is colder than Jammu and Kashmir.
In northern Kashmir region, Kupwara experienced minus 5.1 degrees of temperature which was the lowest temperature recorded in the season so far.
Pahalgam hill resort in Kashmir experienced minus 3.0 degrees of temperature.
Latest Jammu And Kashmir Updates