Losar festival celebrated in beginning of New Year in Ladakh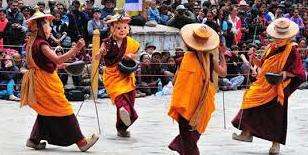 Jammu and Kashmir celebrates Losar festival in Ladakh in the beginning of New Year
The festival is celebrated for 10 days with illumination of residential places by visiting monasteries for prayer.
Communities like Yolmo, Sherpa, Tamang, Gurung and Bhutia celebrate this festival living in dofferent parts of the country.
Losar is celebrated on the 29th day of 10th month every year and is started on first day of 11th month officially
The people in Ladakh visit their Ancestor Family member's Graveyard and pray for the peace.
Food like Guthuk, soup with nine ingredients, khura is being prepared to mark the special food items.
People exchange losar greetings by visiting each other's place and on the third day people wait at night to see the first Moon of the New Year.