Updated By: LatestGKGS Desk
Sung Ji defeats PV Sindhu in Dubai World Super Series semi-finals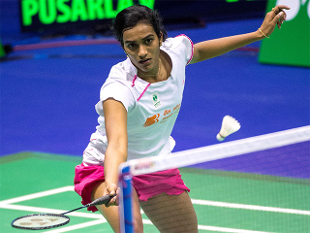 Olympian PV Sindhu loses semi-final match of Dubai world Super Series by South Korea's Sung Ji Hyun
PV Sindhu loses the match by 15-21, 21-18 and 15-21 and also loses the position in finals of Dubai World Super Series.
PV Sindhu worked very hard for the match but could not secure her position in the finals.
PV Sindhu won the second round by 21-18
Sung Ji Hyun had a five point advantage at the break in the final game where she leads 11-6 over PV Sindhu.
At 13-9 to Sung, PV Sindhu feels the pressure at the moment and which made her lose the match.
In the second game, PV Sindhu leads by a narrow margin by 11-10 and then suddenly PV Sindhu and Sung Ji Hyun made extensive shots and made the score 13-13, then 18-18 and then two game points were given for PV Sindhu where she won by 21-18.
Latest Pv Sindhu Updates