PV Sindhu First Indian To Win Gold In Badminton World Championships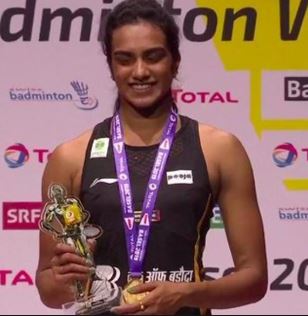 PV Sindhu First Indian To Win Gold In Badminton World Championships: Achievements
Indian star badminton player PV Sindhu is now the first Indian player to win gold in the prestigious Badminton World Championship after defeating Japan's Nozomi Okuhara in the final match played on 25th August 2019.
PV Sindhu won the gold with 21-7, 21-7 that lasted only 38 minutes.
With this, PV Sindhu became only the world's fourth singles player ever to have a full set of world championship medals.
Now, PV Sindhu will directly head to the Tokyo Olympics as the authoritative World Champion.
President of India Ram Nath Kovind and PM Narendra Modi congratulated PV Sindhu for winning the BWF World Championship.
Earlier, PV Sindhu finishes with her fifth medal at the world championships. In an earlier edition of BWF, she had won Bronze in 2013, again Bronze in 2014, Silver in 2017 and again Silver in 2018.
PV Sindhu became the international sensation in 2012 when she made to the top-20 at the age of 17 years.
PV Sindhu was awarded Padma Shri in 2015.