Updated By: LatestGKGS Desk
World Tolerance Summit held in Dubai: Theme, Details, Aim, Significance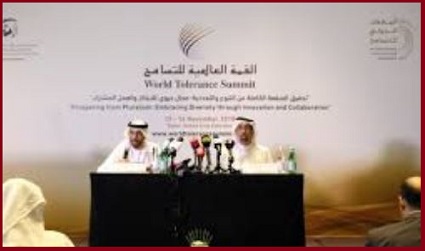 World Tolerance Summit held in Dubai: Theme, Details, Aim, Significance, Highlights
The World Tolerance Summit (WTS) 2018 was held for the first time in Dubai, UAE. It was scheduled to be held from 16th November 2018 to 17th November 2018.
The World Tolerance Summit (WTS) theme was 'Prospering from Pluralism: Embracing Diversity through Innovation and Collaboration'.

WTS summit, a two-day event was the biggest gathering of government leaders, ambassadors, change-makers and key figures from the public and private sectors. It saw the participation of over 2,000 ministers and government leaders from around the world.

WTS summit was held to commemorate the UN-designated International Day for Tolerance. UNESCO had declared November 16 as World Tolerance Day.

WTS summit main aim was to discuss the great importance of tolerance, peace, equality, and to celebrate diversity amongst people from all walks of life, regardless of varying political views, cultural and religious backgrounds.

WTS summit with its wide array of activities developed deep into the ways by which individuals, organisations and nations can be free minded, understanding and accepting of others' opinions and beliefs in order to have a peaceful co-existence and cooperate in generating new ideas to build a prosperous and sustainable future.
WTS summit played an important role in promoting tolerance and diversity which is the cue to peaceful co-existence between communities and regions.

WTS summit also envisioned how modern technologies can leverage societies to unify people from different religions, creeds, class, and color and develop innovative ways to share positive messages to create cohesive and vibrant societies.
Latest Dubai Updates