Updated By: LatestGKGS Desk
Renu Gupta Awarded The Blackswan Award, Women Empowerment: Details, About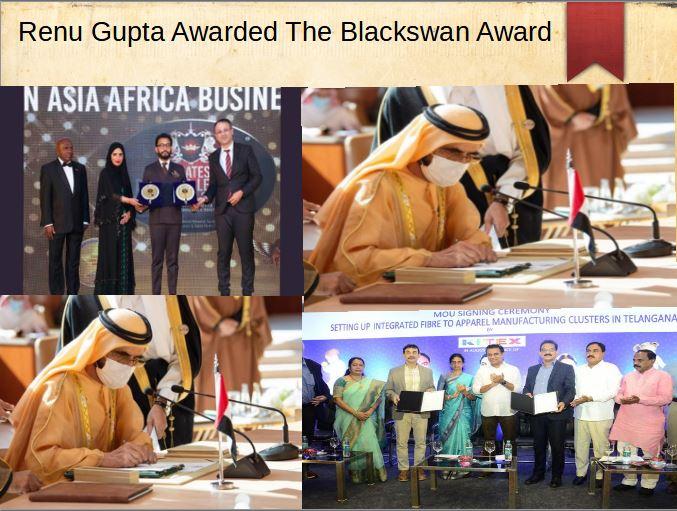 Renu Gupta Awarded The Blackswan Award, For Women Empowerment: Details
Renu Gupta, Managing Director of Red Velvet Rock Global Commercial Brokers LLC in Dubai, received the Blackswan Award for Women Empowerment in recognition of her outstanding contribution to societal transformation through her cutting-edge business concepts.
The summit, now in its 15th edition, honored her for her outstanding contributions across the Asia-Middle East-Africa region. It served as a platform for great visions, discussions, and solutions about the business, economy, social issues, and Asia and Africa's contribution to the world economy's phenomenal growth, as well as a reflection of the influence, impact, and spirit that these top-tier leaders have created around the world. The summit proved to be an exclusive venue for the creation and exchange of vital and insightful ideas about what is best for Asia, Africa, and the world's future.
"Women empowerment is an issue that is extremely important to my heart," Gupta says of her sentiments about this honor. Fortunately, there are many self-aware leaders in the world who have good intentions and systems in place to cultivate talent. Despite this, it is disheartening to watch how slow growth is at the grassroots level. With my work, I hope to inspire young people to take action and make a difference. And if I've influenced even one person, I believe we've made progress toward our goal.
United Research Services conducted research for the awards, which were chosen by consumers and the industry. They are, without a doubt, just for those brands and leaders who are exclusive, excellent, and empowering; people who have not only pushed to establish their brands globally but have also embossed their region on the globe map and made a significant impact on society. The honors were given to those leaders who have left an indelible impact on the world for future leaders to emulate and generations to admire.