Updated By: LatestGKGS Desk
Narmada Bachao Andolan (NBA) History, Features, Impact on Ecosystem, Benefits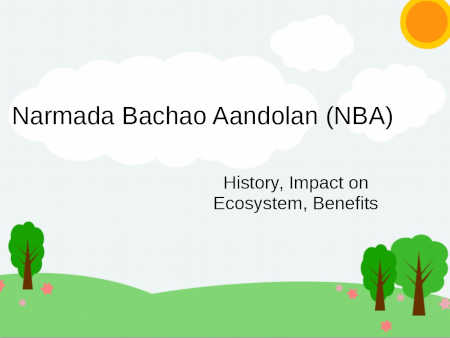 Narmada Bachao Aandolan (NBA) History, Court Order, Importance in Indian Politics, Features, Impact on the Ecosystem in Narmada Valley
In 1985, Narmada Bachao Andolan became an Indian social, environmental movement. Narmada Bachao Aandolan was lead by native tribals (Adivasis), farmers, environmentalists, and human rights activists.
Narmada Bachao Aandolan was against a number of large dam projects across river Narmada, which flows through the states of Gujarat, Madhya Pradesh, and Maharashtra.
Sardar Sarovar Dam in Gujarat is situated on the river and was one of the first concern points of the movement.
Its leading icons are Medha Patkar and Baba Amte, have received the Right Livelihood Award in 1991. Their campaign under NBA includes court actions, hunger strikes, rallies, and gathering support from some film and art personalities.
Why did Narmada Bachao Aandolan happen?
The Narmada River Valley Project is one of the largest water projects in the world. It started in the year 1979.
The two principal mega-dams are the Sardar Sarovar Dam and the Narmada Sagar Dam.
The World Bank provided financial assistance for the massive projects. Following the estimated environmental damage across the river and ongoing uncertainty, the World Bank withdrew the funding in 1992 for the project.
Following the developments, the Narmada Bachao movement turned its focus on the preservation of the environment and the eco-systems of the valley.
Result:
In October 2000 the Supreme court approve construction and decided that the height of the dam be raised to 90 m. This height is much higher than the 88 m which anti-dam activists demanded, but it is definitely lower than the proposed height of 130 m.
As the World Bank withdrew its financing in 1993 the project is now largely financed by the state governments and market borrowings. Now the project is expected to be fully com­pleted by 2025.