Updated By: LatestGKGS Desk
Save Silent Valley Movement Kerala History, Features, Aim, Importance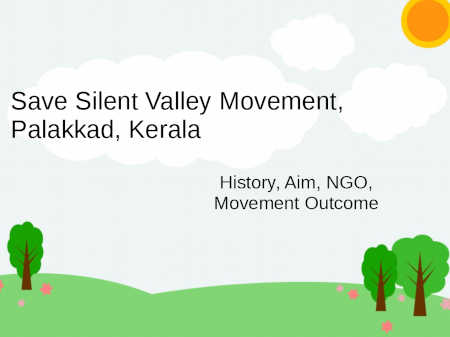 Save Silent Valley Movement, Palakkad, Kerala History, Features, News in Media, Leader, Result, Effect in Environmental Conservation
Long before the Internet era, a remarkable people's movement saved a pristine moist evergreen forest in Kerala's Palakkad District from being destroyed by a hydroelectric power project.
This movement was lead by an NGO name Kerala Sastra Sahitya Parishad (KSSP) an NGO, and the poet-activist Sughatha kumari.
Why did the Silent Valley movement happen?
1970: the Kerala State Electricity Board (KSEB) proposes a hydroelectric dam across the Kunthipuzha River that runs through Silent Valley, which will submerge 8.3 sq km of untouched moist evergreen forest.
February 1973: The Planning Commission approves the project at a cost of about Rs 25 crores. However, due to a lack of sufficient funds, implementation is delayed.
1973: Protests begin to mount against the project.
Kerala government, News Media, Electricity board are in support of the hydroelectric plants.
But Ecologists alert them that the project can destroy 10% of the ecosystem and some species.
January 1981: Bowing to unrelenting public pressure, Indira Gandhi (prime minister) declares that Silent Valley will be protected.
Result :
• November 1983: the Silent Valley Hydroelectric Project is called off.
• 1985: Prime Minister Rajiv Gandhi formally inaugurates Silent Valley, National Park.