Updated By: LatestGKGS Desk
Investigation Agency: Difference between FBI and CIA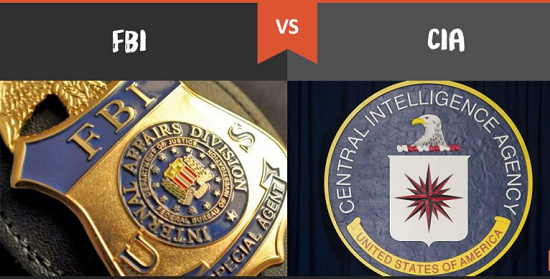 Difference between Federal Bureau of Investigation (FBI) and Central Intelligence Agency (CIA)
The Central Intelligence Agency(CIA) works on issues such as international issues of high priority, such as terrorism, non-proliferation, international organized crime, drug trafficking.
Federal Bureau of Investigation (FBI) In the United States, related to domestic crime and intelligence investigation issues. The main priorities of the FBI include the prevention of terrorist activities within the US and the enforcement of domestic enforcement laws.
1. The CIA conducts its activities by gathering intelligence through a network of detective networks sitting outside of the United States while the FBI mainly collects intelligence information within the United States, as well as to deal with federal crimes. It is thus clear that the area of the CIA is much larger than the FBI in terms of area.
2. The FBI works under the U.S. Department of Justice and is responsible for implementing the law in the United States, while the CIA is an independent agency.
3. The CIA was created on September 18, 1947, with President Harry S. Truman signing the National Security Act, while the FBI was founded on July 26, 1908.
4. In the fiscal year 2016, the CIA had an estimated 25,000 agents and 35,000 employees whereas the FBI has approximately 13,000 agents, 22,000 employees, and 3,000 intelligence analysts.
5. The CIA's annual budget was approximately $ 18 billion in FY 2016, while the FBI's annual budget was about $ 8.8 billion in the same period.