Historical Events took place on 24th October including UN Declaration in 1945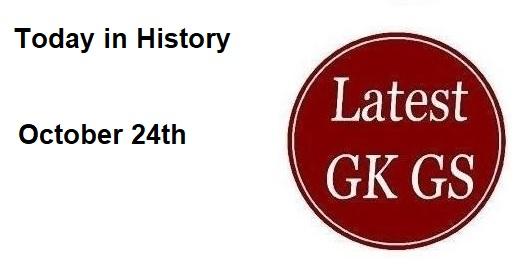 October 24th History, Important Events including the United Nations Declaration implementation on October 24, 1945
After World War II, many countries of the world kept the idea of establishing an organization to maintain peace and goodwill, and with this coordinated efforts, the idea of establishing the United Nations was embodied.
The United Nations Declaration was prepared and it was implemented on October 24, 1945. Every year on October 24, United Nations Day is celebrated.
The details of the other major events recorded in the history of the world on 24th October are as follows: - 1605: After the death of Akbar, Shahzada Saleem took over the reins of the Mughal Sultanate.
In history, he is known as Jahangir. 1777: Birth of Bahadur Shah Zafar. The last Mughal emperor is remembered as a shayer, composer, and calligraphist more than a king.
Zafar did not have the "two yards of the land" of his own land and he breathed his last in Rangoon: now Yangon.
1851: Calcutta: Now the opening of the first official telegraph line between Kolkata and Diamond Harbor:
1914: Birth of Laxmi Sehgal, an officer of Azad Hind Fauj and the great freedom fighter Laxmi Sehgal.
1921: Birth of RK Laxman, the most celebrated and respected cartoonist of the country. Through 'Common Man', Laxman enjoyed masterminding the burning issues of the country in a very satirical style in the ranks.