Mahinda Rajapaksha is new Prime Minister of Sri Lanka: Details, Profile, Highlights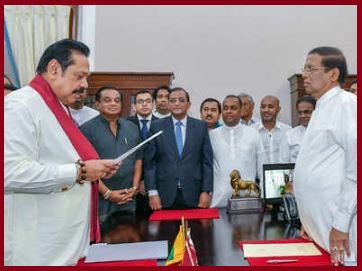 Mahinda Rajapaksha was sworn in as new Prime Minister of Sri Lanka: Details, Profile, Highlights
Sri Lankan President Maithripala Sirisena has discharged Ranil Wickremesinghe, incumbent prime minister of Sri Lanka and appointed former President Mahinda Rajapaksha as the new Prime Minister of Sri Lanka.
Mahinda Rajapaksa was born on 18th November 1949 in the southern province of British Sri Lanka.
Mahinda Rajapaksa was the 18th Prime Minister of Sri Lanka from 6th April 2004 to 19 November 2005. Later, he was the 6th President of Sri Lanka from 19th November 2005 to 9th January 2015.
Background
At present, Sri Lanka's politics is in turmoil because of the tension between President Sirisena and PM Wikramasinghe. In a sudden move, the United People's Freedom Alliance (UPFA), the Political Front of President Mittipala Sirisena, withdrew support from the coalition government with Ranil Wickramasinghe's Party United National Party (UNP).
This coalition government was formed in the year 2015 when Sirisena became President by the support of Ranil Wikramasinghe.
This sudden move also indicates a constitutional crisis lurking in Sri Lanka. According to the 19th Amendment to the Sri Lankan Constitution, Wikramasinghe could not be removed from the post without the majority.