Updated By: LatestGKGS Desk
Gujarat Government To Launch Free Treatment Scheme For Road Accident Victims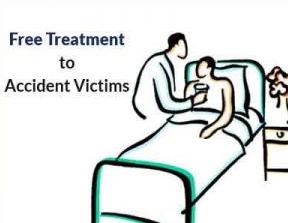 Gujarat Government To Launch Free Treatment Scheme For Road Accident Victims- Details, Features, Benefits
Gujarat state government will soon launch a free treatment scheme for the road accident victims.
Gujarat's Deputy Chief Minister Nitin Patel, who also handles Health portfolio, had recently made this announcement.
Under the free treatment scheme, the Gujarat state government will provide medical expenses of up to Rs 50,000 for each victim of a road accident in the state for the first 48 hours.
Gujarat state government would also reimburse the amount to the hospital concerned upon submission of bills. The free treatment facility will include dressing of wounds, X-ray, blood transfusion, treatment in ICU and MRI and all other treatment available in a hospital.
According to the scheme, whenever a hospital refers the patient to another hospital within 48 hours, both the hospitals will be eligible for the reimbursement of their combined bill of Rs 50,000.
Gujarat state government's main aim is to provide timely and better treatment and therefore, minimising the loss of life due to road accidents. Apart from covering the people of Gujarat, the scheme would also cover people belonging to other states and also citizens from foreign countries.
Background
According to Gujarat's Health and Family Welfare Department, a resolution was issued on 17th May 2018 which stated that people even coming from other states or countries will get free treatment regardless of their income if they meet with a road accident and get admitted to a government or a private hospital in Gujarat.