Updated By: LatestGKGS Desk
History: Central Asian contact and their results, Indo-Greek relations, Gupta Dynasty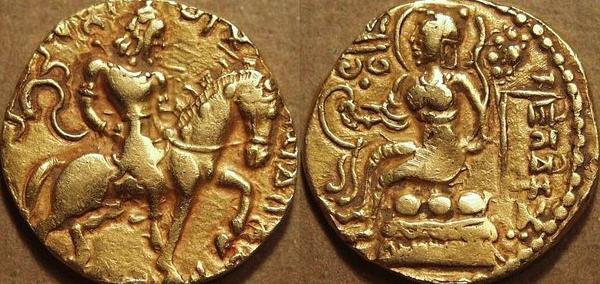 Central Asian contacts with Greek, Kushan, Shaka, and the Gupta Dynasty
The Indo-Greeks
The most famous Indo-Greek ruler was Menander (165 – 145 BC)
Greeks were the first to issue coins which are attributed to the kings, and also the first to issue gold coins in India.
Nagsen a Buddha Bhikshu composed Milind Pancho which was in Question-Answer form between Nagsen and Menander.
The Shakas or Scythians
The Greeks were followed by the shakes, who controlled a larger part of India than the Greek did.
Vikramaditya defected Shak in 58 BC, on this occasion he started Vikram era.
The Parthians
The most famous Parthian King Gondophernes ( AD 19-45), During his Period, in AD 1stcentury, 1st Christian missionary under St Thomas visited India.
The Kushans (AD45)
Kushans come from north-central Asia near China. Their empire included a good part of central Asia, a portion of Iran, a portion of Afghanistan, Pakistan and almost the whole of north India.
Kanishka was their most famous king at that time.
He patronized the following persons:-
Ashwaghosha ( wrote 'Buddhacharita')
Nagarjuna
Vasumitra (chairman of fourth Buddhist Council)
Charaka (a physician, wrote 'charak Sanhita')
He started an era in AD 78, which is now known as Saka era is used by the Govt. of India.
The Gupta Dynasty
The first two kings of the dynasty were Srigupta and Ghatotkacha.
Chandragupta I (AD 319-350)
He is the first important king of the Gupta dynasty.
Started the Gupta era in AD 319-320.
Samudragupta (AD 350-375)
The Gupta kingdom was enlarged enormously by Chandragupta's son & successor Samudragupta.
Samudragupta is called the 'Napoleon' of India.
Chandragupta II (AD 375-415)
His court was adorned by celebrated nine gems (navaratnas) including Kalidas, Amarsimha, Varahmihira, and Dhanvantri.
Chinese pilgrim Fahian visited India at this time.
Kumargupta I (AD 415-455)
At that time he founded Nalanda University (a renowned university of ancient India).
Skandagupta (AD 455-467)
Kumargupta-I was followed by Skandagupta.
After his death, the great days of the Guptas were over.
Latest History Updates