Updated By: LatestGKGS Desk
Today in History: History of 4 December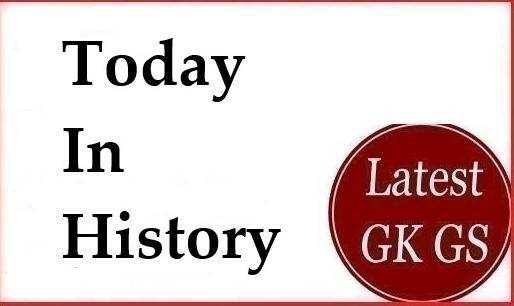 Important events of 4 December: What happened on this day?
1563- Council of Trent holds its last session, after 18 years. Last ecumenical council for more than 300 years.
1644- First European peace congress opens in Munster.
1682- First General Assembly in Pennsylvania (Chester).
1688- General John Churchill changes allegiance from James II to William of Orange.
1791- Britain's Observer, oldest Sunday newspaper in the world, first published.
1829- Britain outlaws 'Sati' in India.
1864- Battle of Waynesborough (Brier Creek), Georgia.
1881- The first edition of the Los Angeles Times is published.
1930- the Vatican approves rhythm method for birth control.
1933- FDR creates the Federal Alcohol Control Administration.
1941- Nazi ordinance places Jews of Poland outside protection of courts.
1945- Senate approves US participation in United Nations.
1947- In the first cricket test match between the 2 nations, India is dismissed for 98 by Australia in Brisbane to lose by an innings & 226 runs; fast bowler Ernie Toshack takes 6 for 29 for match figures of 11 for 31.
1951- Superheated gasses roll down Mount Catarman, Philippines, killing 500 people.
1952- Killer fogs begin in London, England. the term "Smog" is coined.
1961- Tanganyika becomes the 104th member of UN.
1965- Gemini 7 launched with Frank Borman and Jim Lovell.
1971- The Indian Navy attacks the Pakistan Navy and Karachi.
1978- Pioneer Venus1 goes into orbit around Venus.
1982- China adopts its constitution.
1986- the US launches its Fleet Satellite Communications System (Fltsatcom-7).
1996- NASA's 1st Mars rover launched from Cape Canaveral.
2011- 100th Davis Cup: Spain beats Argentina in Seville (3-1).
2015- Floods in Chennai and Tamilnadu state, 260 dead and thousands stranded.
2016- New Zealand Prime Minister John Key resigns after 8 years.
2017- Thomas fire begins and spreads to the city of Ventura, California.