Updated By: LatestGKGS Desk
National Hydrogen Mission: PM Narendra Modi, Transportation, Details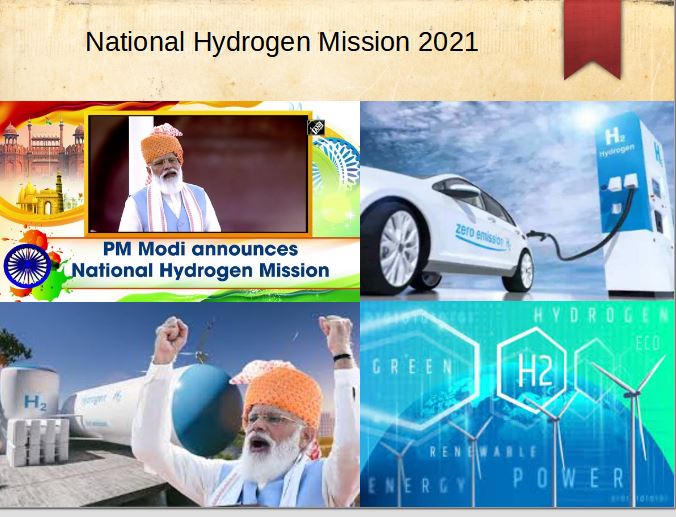 National Hydrogen Mission: Details, History
On India's 75th Independence Day, Prime Minister Narendra Modi announced the commencement of the National Hydrogen Mission (NHM), with the goal of making the country a global hub for the production and export of green hydrogen.
Hydrogen's potential as a game-changer in the energy arena has long been recognized — its versatility allows it to be used in transportation, power generation, and industry — and growing climate change concerns are driving countries to quickly integrate it into their energy mix in order to meet their goal of becoming a low-carbon economy.
Hydrogen is the star's fuel, and it has a lot of energy. It is also the universe's most plentiful element. On Earth, though, it can be found in complex molecules like water or hydrocarbons. Hydrogen is an energy carrier, not a source of energy like fossil fuels or renewable sources like sunlight and air. It must be produced, extracted, and stored before it can be used.
MNRE has been sponsoring a broad-based Hydrogen Energy and Fuel Research, Development, and Demonstration (R&D) program. Projects in commercial, academic, and research institutions are being financed to address issues in hydrogen production from renewable energy sources, its safe and efficient storage, and its use for energy and transportation applications via combustion or fuel cells.
In terms of transportation, Banaras Hindu University, IIT Delhi, and Mahindra & Mahindra have all received significant funding. As a result, internal combustion engines, two-wheelers, three-wheelers, and minibusses that run on hydrogen fuel have been developed and demonstrated. There are now two hydrogen refueling stations (one each at Indian Oil R&D Centre, Faridabad, and National Institute of Solar Energy, Gurugram).