Updated By: LatestGKGS Desk
Bangaladesh signed USD 4.5 billion dollars third line credit deal with India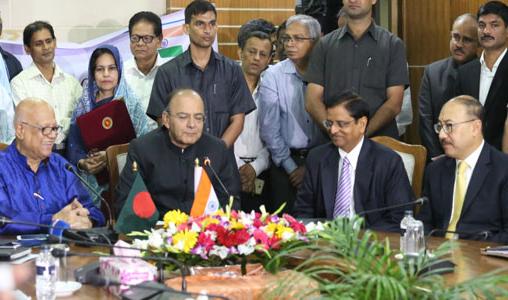 Bangladesh signed USD 4.5 billion dollars third line credit deal with India for infrastructure projects development
The Government signed a massive USD 4.5 billion third line of credit deal with India to implement key infrastructure projects in Bangladesh on 4th October 2o017.
Seventeen priority infrastructure projects, including electricity, roads, railways, shipping, and ports will be covered by the third line of credit to Bangladesh from India.
According to the Agreement, Bangladesh to pay 1 percent interest rate and pay back the loan in 20 years with a five years moratorium.
The two finance ministry also held a meeting to discuss bilateral development partnership sub-regional economic cooperation amid India and Bangladesh.
The line of credit to Bangladesh would help increase bilateral trade and foster people to people contacts between the two countries.
The 4.5 billion loan for Bangladesh was announced during Bangladesh Prime Minister Sheikh Hasina's visit to New Delhi in April 2017.
Bangladesh would have to procure 65 to 75% of the services, goods or works from the Indian market with the money to be provided under the third LoC under this contract.
Bangladesh has two other LoCs open with India in which of them the First was signed in 2010, and the second was in 2016.