Updated By: LatestGKGS Desk
India-Russia Boosts Ties Discussed Issues Pertaining To Security & Bilateral Contacts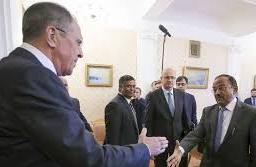 India-Russia Strengthen Ties Discussed Issues Pertaining To Security and Enhancing Bilateral Contacts
With the aim of countering terrorism, organized crime and drug trafficking, India's National Security Advisor, Ajit Doval held bilateral talks with Russian Foreign Minister Sergei Lavrov in Moscow.
India and Russia on their talks discussed issues as a part of regular contacts between the two countries' & security councils.
Elaborating opening remarks during talks with Doval, Russian Foreign Minister Sergei Lavrov said that focusing on strengthening the bilateral ties, the economic ties between both the nations are growing. Apart from this, a mechanism is being developed to further liberalise trade both bilaterally and as part of India's cooperation with the Eurasian Economic Union.
Russia- India- China (RIC) format, BRICS and now the SOC, India actively and full-fledged been a member since last year. All these allow the nations to closely interact and coordinate our approaches in the UN and various military and political security mechanisms in the Asia-Pacific region.
India and Russia nations further discussed their "further work" to solve tasks related to fighting terrorism, organized crime, and drug trafficking, and to promote cooperation in practical areas.
Latest India And Russia Updates