India & Singapore Maritime Bilateral Exercise 'SIMBEX' begins in Bay of Bengal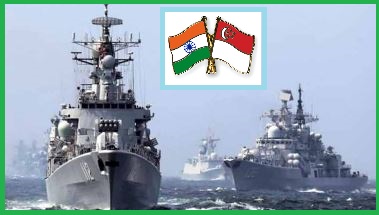 India & Singapore Maritime Bilateral Exercise 'SIMBEX' begins in Bay of Bengal: Details, Aims, Highlights
India and Singapore will hold 25th joint naval exercise 'SIMBEX 2018', (Singapore-India Maritime Bilateral Exercise) begin from 10th November 2018 to 21st November 2018 in India off Andaman Sea and Bay of Bengal.
SIMBEX 2018 will mark the silver jubilee of bilateral exercise and will be the largest edition since 1994 in terms of scale and complexity.
About SIMBEX 2018
SIMBEX 2018 will see diverse range of exercises at sea such as live weapon drills including multiple missile firings, heavy-weight torpedo (HWT) and medium range gun and anti-submarine rocket firings; advanced anti-submarine warfare (ASW) exercises, submarine rescue demonstrations; integrated surface and anti-air warfare (AAW); unmanned aerial vehicle (UAV) operations and cross deck helicopter flying among others.
SIMBEX-2018 initial first harbor phase of the exercise will be held at Port Blair followed by Sea Phase in the Andaman Sea. The 2nd harbor phase will be held at Visakhapatnam. Third and final sea phase will be held in the Bay of Bengal.