Updated By: LatestGKGS Desk
Indian Navy: Singapore India Maritime Bilateral Exercise (SIMBEX-19)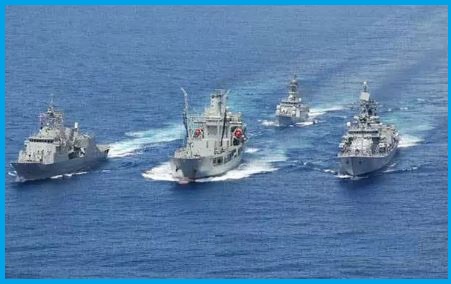 Singapore India Maritime Bilateral Exercise (SIMBEX-2019): Details, Aim, Significance
Indian Naval ships namely INS Kolkata and INS Shakti are participating in annual bilateral naval exercise between India and Singapore – SIMBEX-2019.
SIMBEX (Singapore India Maritime Bilateral Exercise) is an annual bilateral naval exercise between India and Singapore. It is being held from 16th May to 22nd May 2019.
For SIMBEX 2019, the Indian Navy has deployed its finest assets Kolkata Class Destroyers (INS Kolkata and INS Shakti) to extend bridges of friendship through maritime, economic, and cultural interactions with countries of east and south-east Asia (SEA).
SIMBEX 2019 will be conducted in Two Phases viz Harbor Phase and Sea Phase.
About SIMBEX
SIMBEX was first initiated in 1993, since then it has become an annual affair. Over the years it has grown in operational and tactical complexity as well as from traditional anti-submarine exercises to more complex maritime exercises. It undertakes anti-air or anti-surface practice firings, air defense operations, advanced tactical exercises, etc.
SIMBEX has stood the test of time in demonstrating commitment between India and Singapore in enhancing maritime cooperation between their navies and bolstering bonds of friendship between the two countries.
SIMBEX main aim is to enhance interoperability, strengthen mutual trust, and build greater synergy to address common maritime concerns among both navies.